Produkto aprašymas
Yamaha R-N803D stereo 2.1 garso stiprintuvas 2x290W WiFi Bluetooth® interneto radija AirPlay® nemokamas pristatymas | 24 mėn. gamintojo garantija

Patogiai klausykis muzikos kur ji bebūtų aukščiausia garso kokybe iš Yamaha. WiFi, Bluetooth® suteikia galimybė pasiekti muziką Jūsų telefone, kompiuteryje, internete ar betkokiame muzikos servise. MusicCast palaikymas leidžiai patogiai nadotis bevieliu multiroom funkcionalumu. 2x290W MAX.
Skirtas 2 garso kolonėlių stereo sistemai arba stereo sistemai su žemų dažnių garsiakalbiu.
Svoris 11 kg. Išmatavimai 435 x 151 x 392 mm
Spalva: juoda arba sidabrinė.

















Atraskite geriausią garsą savo namų kino sistemai, Hi-Fi ir Jūsų asmeninį muzikinį malonumą. YAMAHA siūlo įdomius naujus produktus, skirtus praturtinti Jūsų gyvenimą per muziką.
R-N803D
Specifikacija:
Network section
DLNA
Version 1.5
File Format
MP3, WMA, MPEG4 AAC, WAV, FLAC, AIFF, ALAC, DSD
AirPlay
Yes
Maximum Power (4 ohms, 1kHz, 0.7% THD, for Europe)
160 W + 160 W
Maximum Power(8 ohms, 1 kHz, 10% THD)
145 W + 145 W
High Dynamic Power/Channel (8/6/4/2 ohms)
140 / 170 / 220 / 290 W
Frequency Response
0 ± 0.5 dB / 0 ± 1.0 dB
Signal-to-Noise Ratio (CD)
100 dB (Pure Direct on, 200 mV)
Audio In / Out
10 / 2
Digital Input
Yes (Optical / Coaxial)
USB Input
Yes
Subwoofer Out
Yes
Control (Trigger) Out
Yes
Pure Direct
Yes
ToP-ART
Yes
Standby Power Consumption
0.1 W (Network standby on / Wi-Fi connection; 1.8 W)
Dimensions (W x H x D)
435 x 151 x 392 mm (with antenna up: 435 x 215 x 392 mm); 17-1/8" x 6" x 15-7/16" (with antenna up: 17-1/8" x 8-1/2" x 15-7/16")
Weight
11 kg; 24.3 lbs.
Receiver / Integrated Amplifier
Network section
Wi-Fi
Yes (with Wireless Direct)
Bluetooth
Yes (SBC / AAC)
Minimum RMS Output Power
100 W + 100 W (8 ohms, 20 Hz-20 kHz, 0.019% THD)
Phono Input
Yes
Ethernet
Yes
Headphone Out
Yes
Prabangus Hi-Fi malonumas
Legendinis Yamaha stiprintuvas patobulintas tinkliniu grotuvu ir funkcijomis, džiaukis savo muzika
Yamaha boasts over 60 years of history as an audio brand. And the technology of R-N803D comes directly from Yamaha's legendary Hi-Fi design concept ToP-ART (Total Purity Audio Reproduction Technology), which faithfully maintains the integrity of the audio by combining a meticulously symmetrical left / right circuit layout and signal directness (straightest, shortest signal paths) with a low-vibration chassis of high rigidity, equipped with the special resin frame "Art Base" that absorbs and blocks unnecessary vibration. It maintains sonic purity and accurate stereo image of the music to create unshakeable drivability.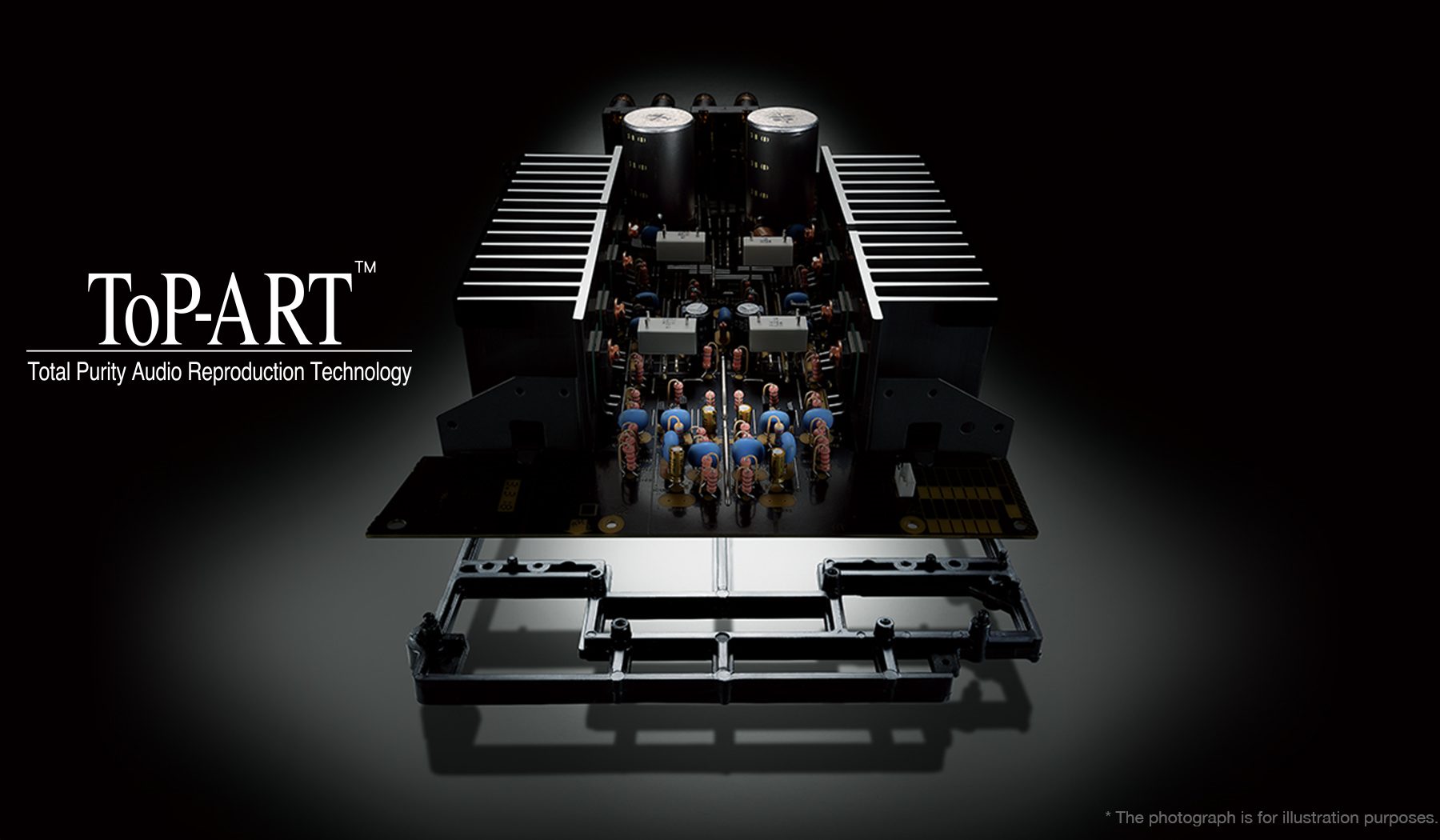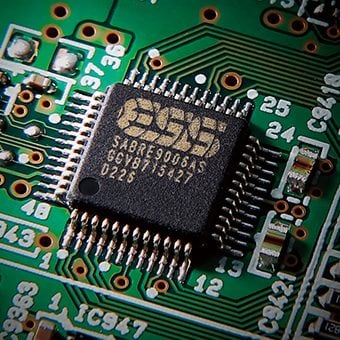 High-precision, high-performance
The R-N803D uses the renowned SABRE 9006AS 192 kHz / 24-bit DAC (from ESS technology) to deliver superior S/N performance. Combined with Yamaha's original network module, the unit thoroughly draws out all the sonic merits of high-resolution sound sources, effectively reproducing even the subtle ambience of concert halls and delicate expressive nuances in the sound.
Optimised for the ultimate
For the first time in a Hi-Fi receiver, the R-N803D is equipped with the Yamaha Parametric room Acoustic Optimiser (YPAO), a famed technology used in Yamaha's AV receivers. It measures the shape of the room, the material of the wall and the position of the speaker, and then automatically adjusts the sound to create the ideal response and sonic quality. The unit also features other advanced YPAO functions, including YPAO™-R.S.C (Reflected Sound Control), which actively corrects the important early reflection sounds that greatly influence sound quality, and YPAO Volume, which applies exceptionally high-precision EQ (equalisation), with 192 kHz / 64-bit operation. The result? You can create an ideal listening environment right in your home, just like that of a professional audio listening room. Moreover, you can control the YPAO feature and display the analysis results by using a MusicCast app.*
* To be supported in future firmware updates.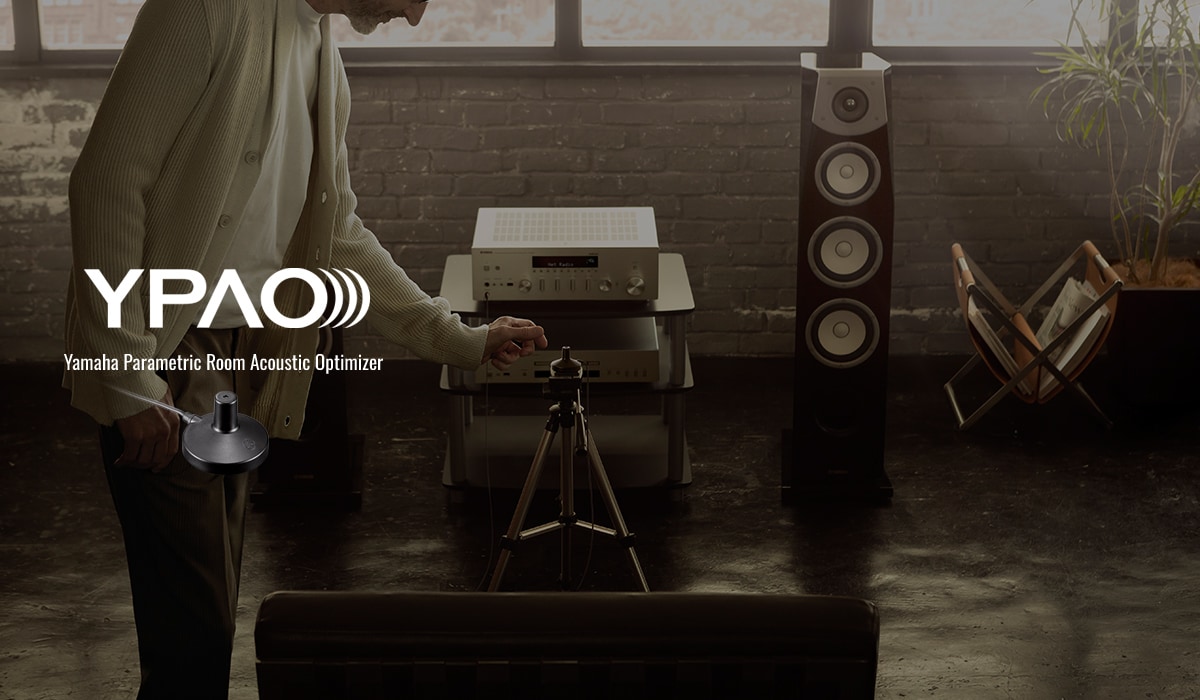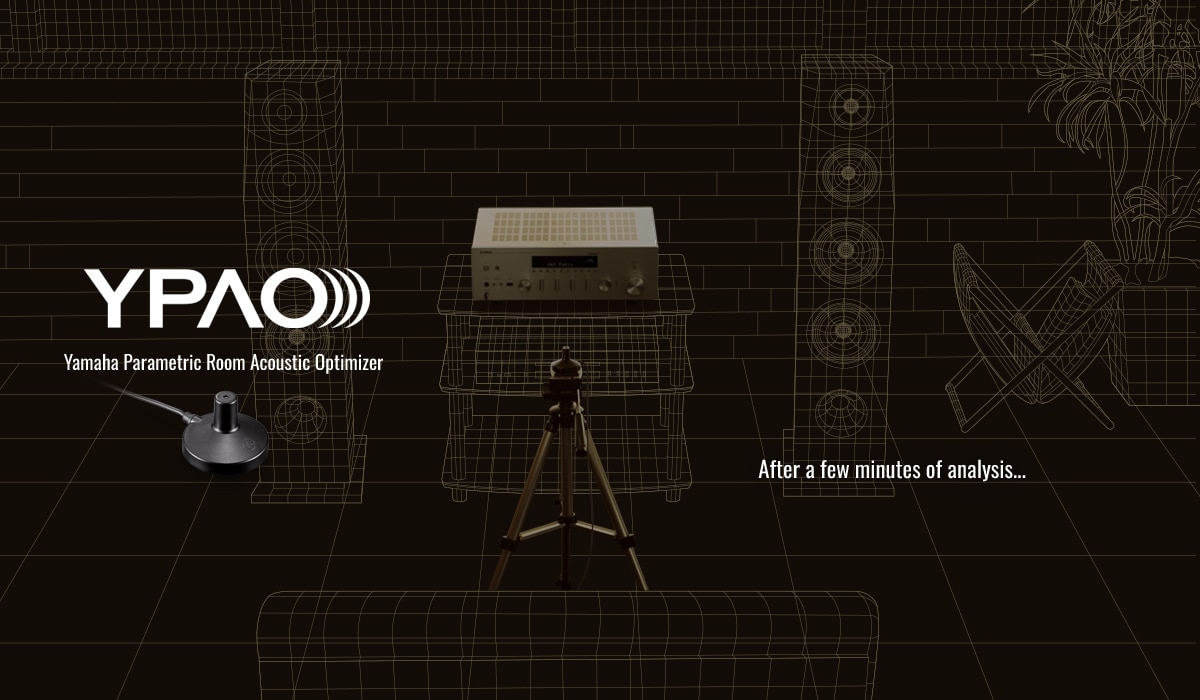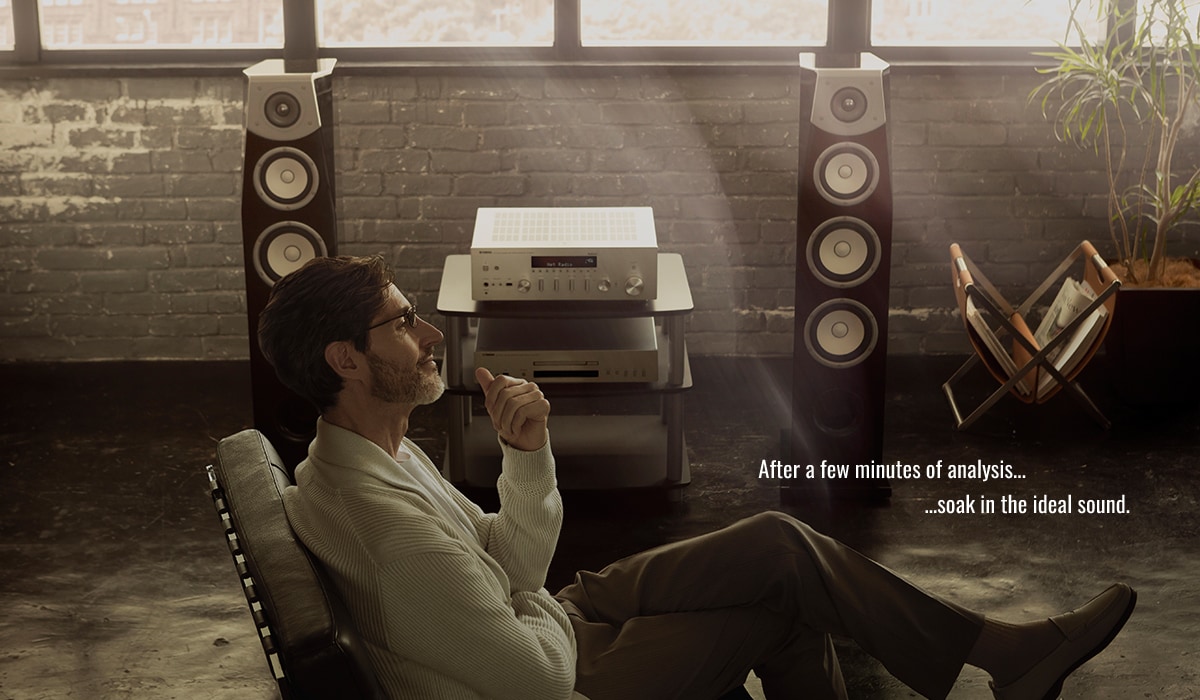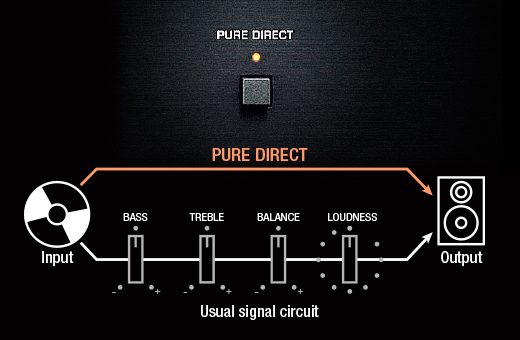 Maximum sound purity
Pure Direct mode enables the music signals to travel the shortest possible circuit route, bypassing the buffer amp and the tone, loudness and balance controls to virtually eliminate any signal degradation, for the purest sound quality.
Pure delight to own
This model inherits the simple and sophisticated design style for which Yamaha Hi-Fi audio is famous. With the elegant aluminium hairline finish of the front panel, it harmonises beautifully with your other Hi-Fi audio components. The stylish design with high-quality materials deepens both the joy of ownership and the joy of listening.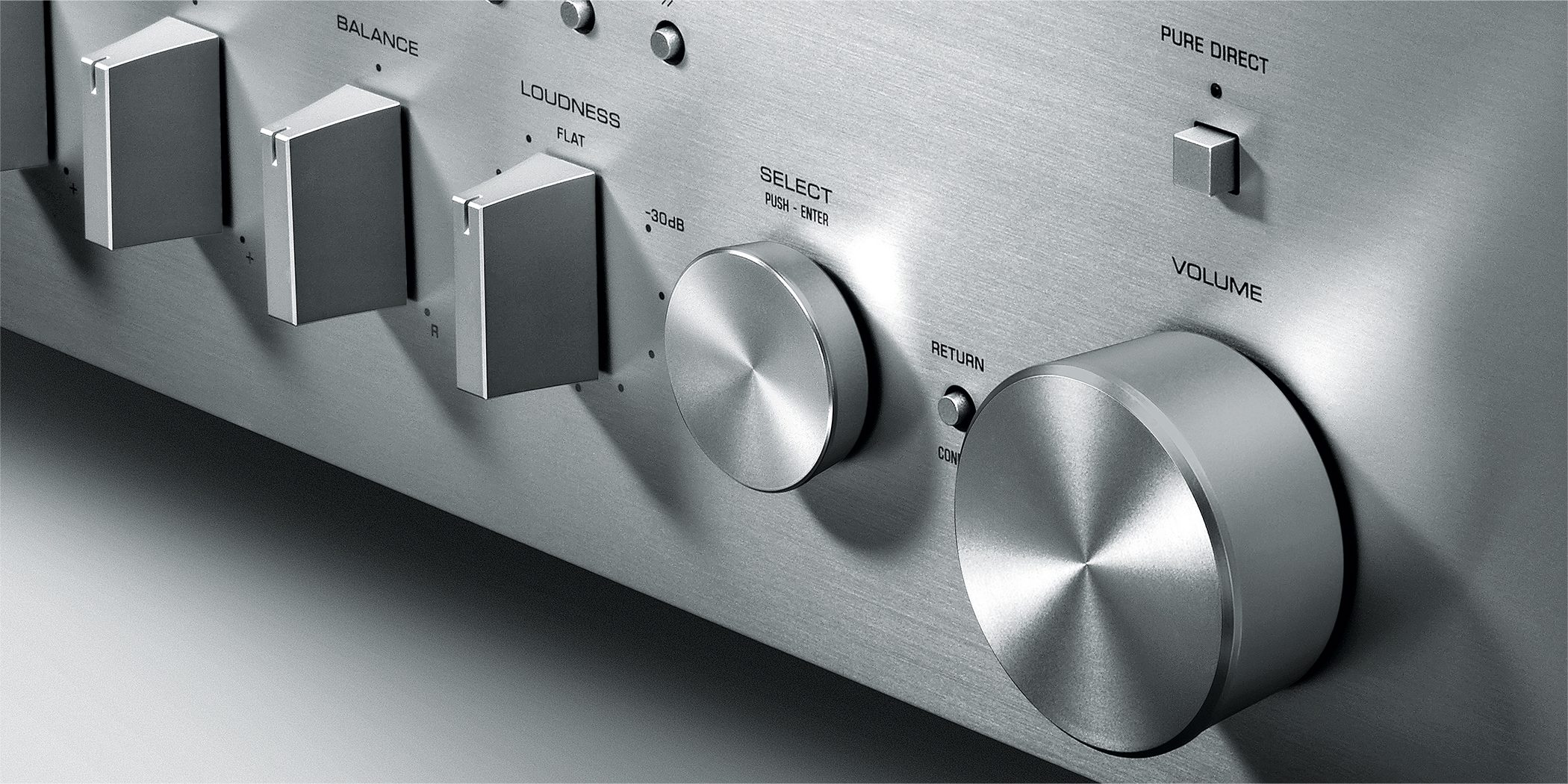 Sophisticated circuit design
The power amp block adopts a symmetrical and direct circuit layout based on the ToP-ART concept, featuring a parallel push-pull structure using a total of eight bipolar type power transistors (four each, on left and right) as its output terminals. And by minimising the lengths of the audio signal paths in the circuit design, we've lowered impedance to achieve superb drive power with a maximum output of 145 watts (per channel).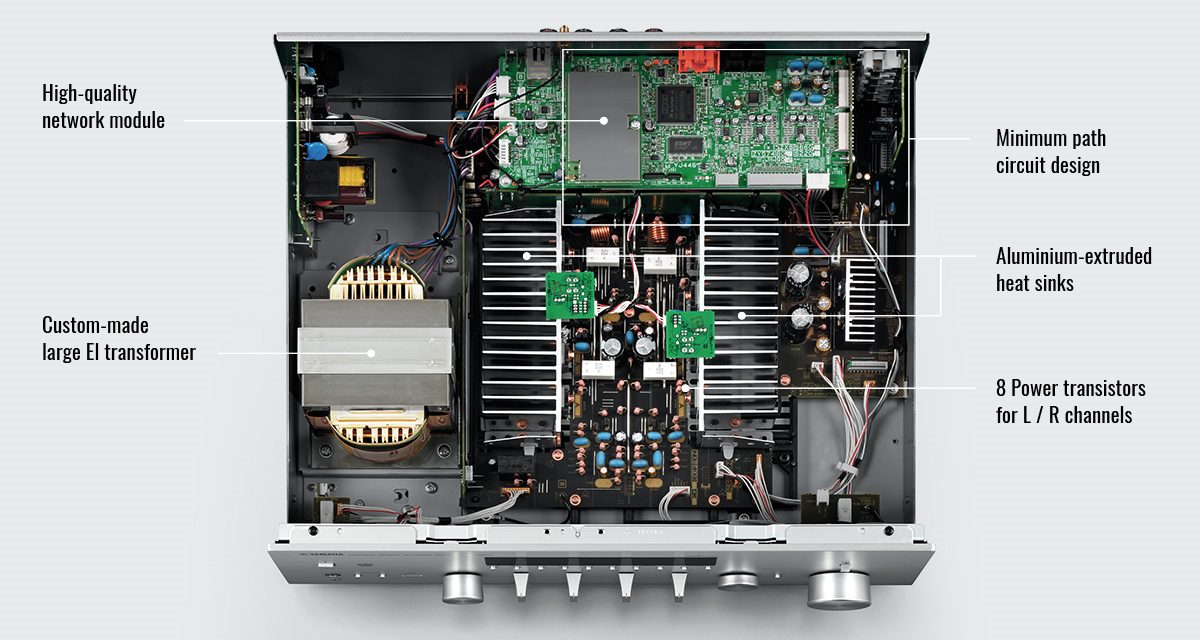 Go wireless
The R-N803D is equipped with Bluetooth® functionality to let you enjoy easy wireless music playback from smartphones and other devices.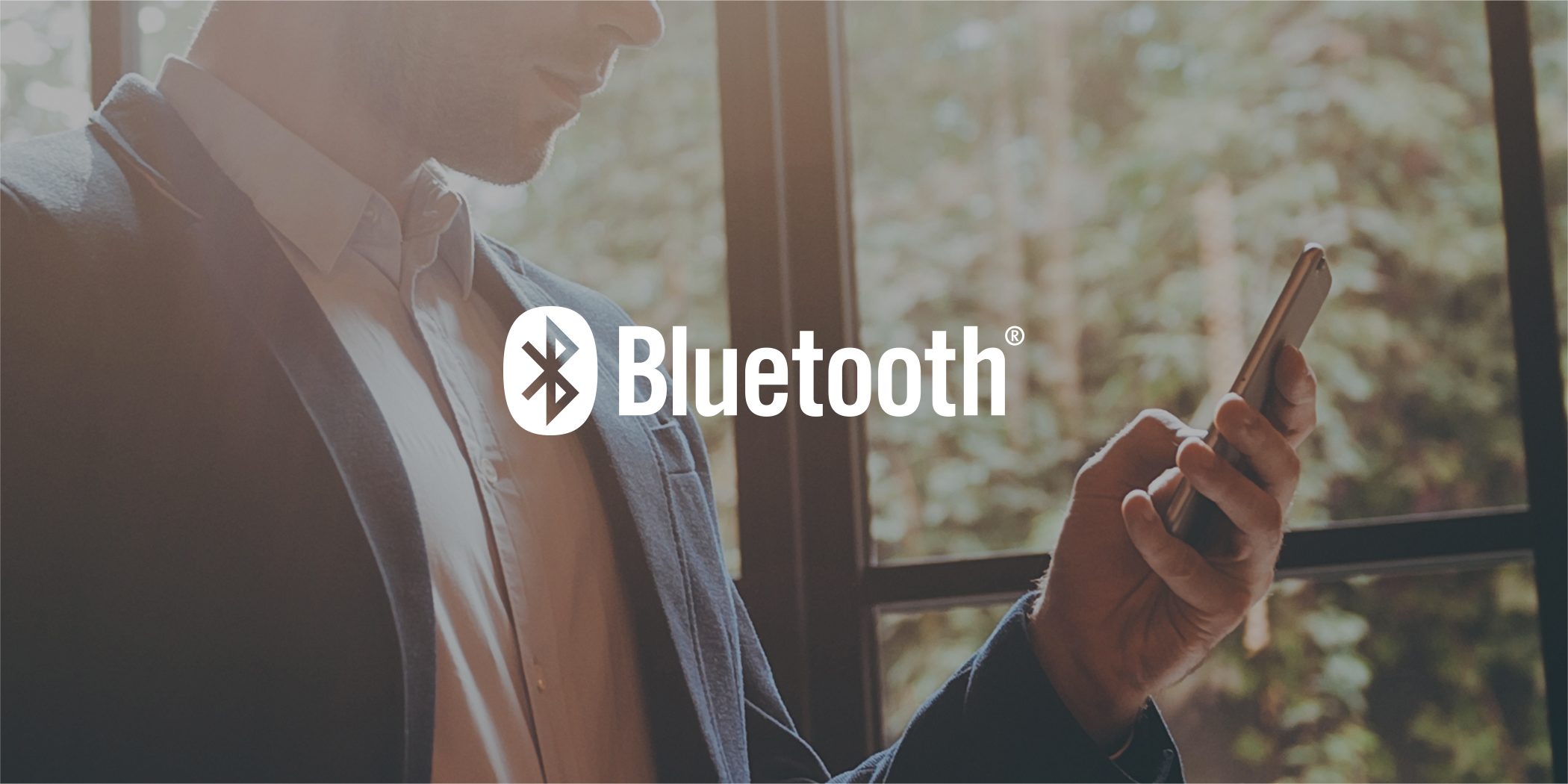 Your music everywhere
MusicCast employs a high performance wireless network to deliver music and audio enjoyment. It can stream digital music content from your smartphone, PC or NAS to other MusicCast devices in your home. It can also share the music from external devices such as a CD player or TV connected to the R-N803D. Audio content from Bluetooth-connected smartphones or tablets can also be streamed to MusicCast devices in multiple rooms.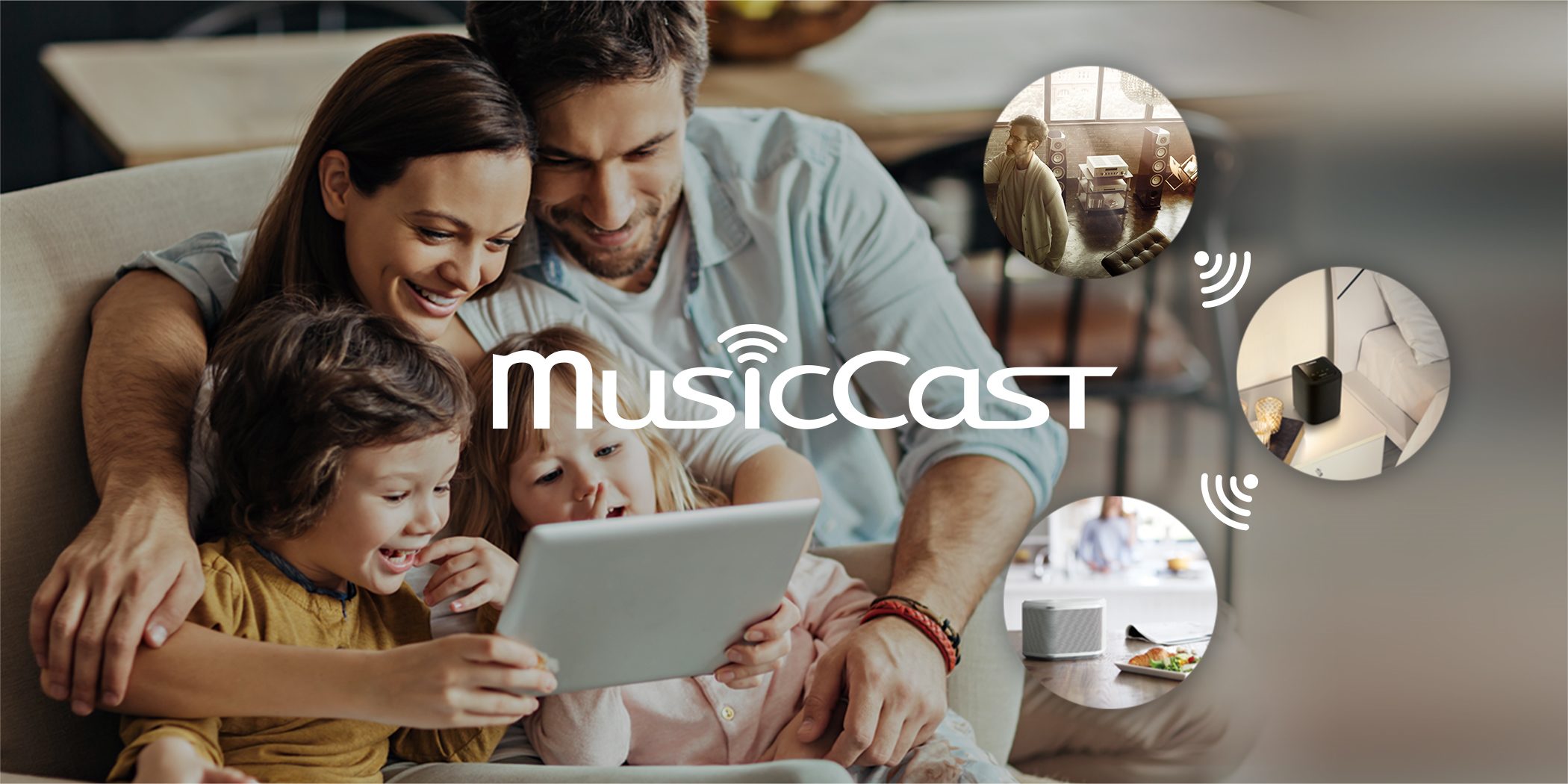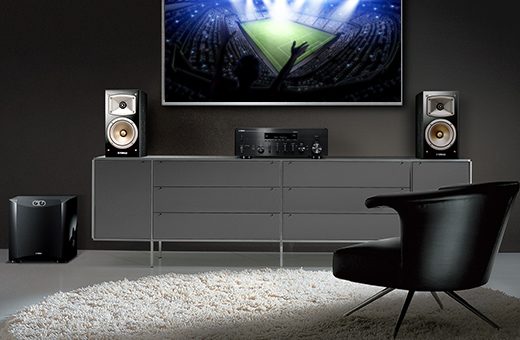 Hi-Fi sound for your TV
The R-N803D is equipped for digital audio input with both audio and coaxial terminals. The optical is for receiving audio from a TV and the coaxial is for receiving audio from a Blu-ray Disc™ player. The audio stays in the digital domain, giving you pure, pristine, dynamic sound for all your entertainment sources, from sports and other programmes to movies and concerts.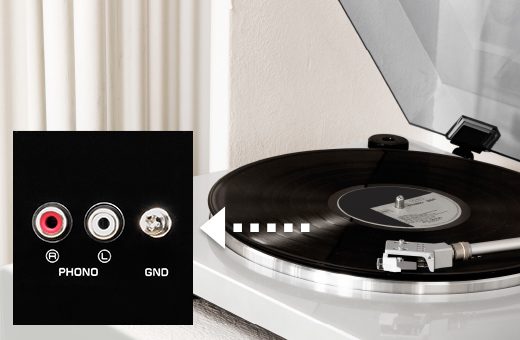 Enjoy your records, too
The comprehensive connectors of the R-N803D include special phono input terminals, letting you easily connect a turntable and enjoy music from your vinyl record collection.
All You Want, All You Need
Control at your fingertip
Control. It's all in the palm of your hands — with the free MusicCast CONTROLLER app. Simply tap and flick on the intuitively designed screen, and easily operate all of your MusicCast devices, as well as the R-N803D.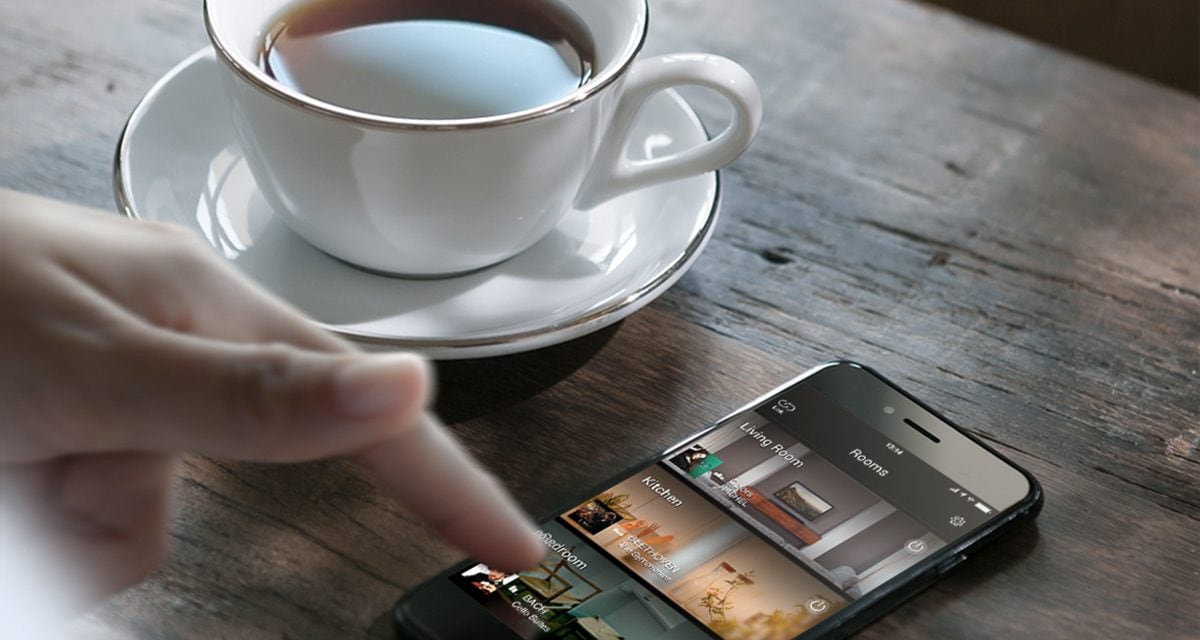 Find your favourites, discover new ones
The R-N803D is compatible with a large variety of popular streaming services, including the widespread Spotify, the up-and-coming Tidal and Deezer services, as well as Napster®, Qobuz, Juke and others — letting you enjoy all your favourite artists, discover new ones, and get music content from all over the world.
* Music service availability varies by region.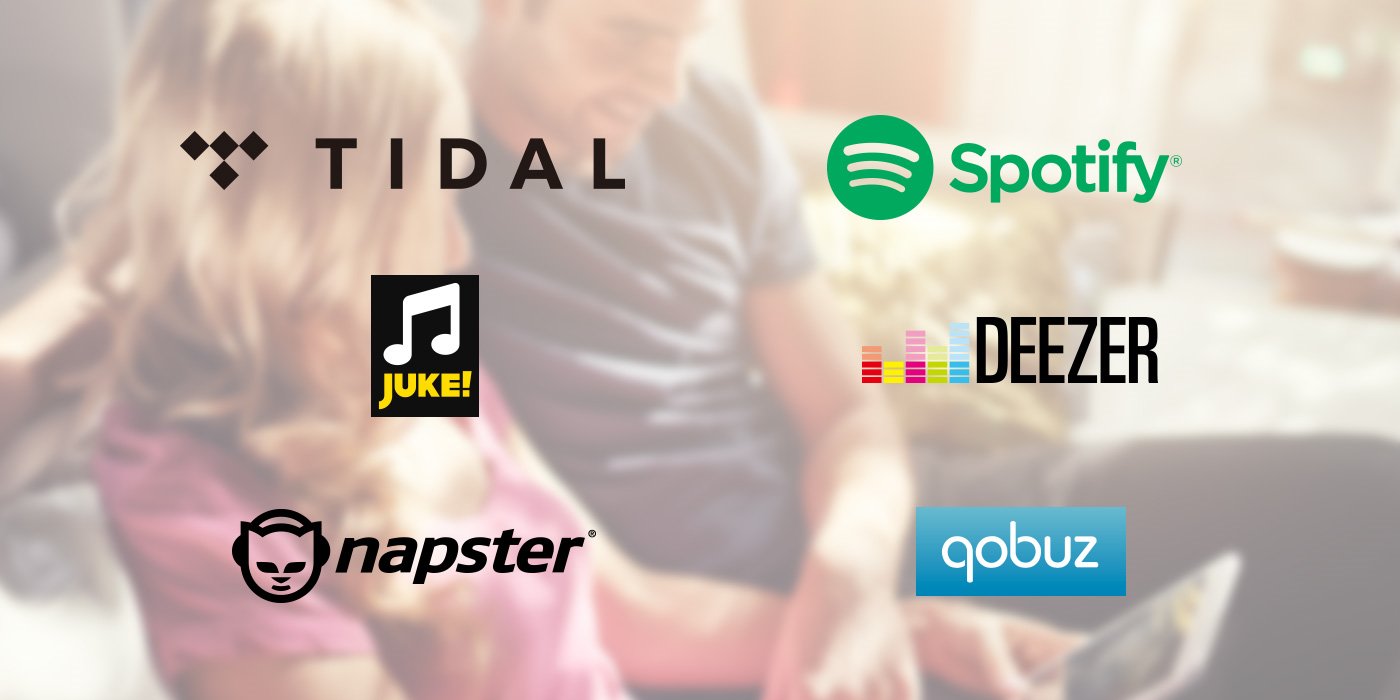 DAB / DAB+ Tuner
DAB and DAB+ are Digital Audio Broadcasting formats that offer a large selection of radio stations with high sound quality. Other benefits include automatic tuning to available stations with a list to choose from, and display of information such as station name. You can preset 40 DAB / DAB+ stations.