Produkto aprašymas
Namų kino sistema Yamaha RX-V485 stiprintuvas 5x160W garso kolonėlės Dynavoice Magic F-6 + S-4 + C-4
nemokamas pristatymas 24 mėn. garantija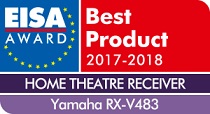 Yamaha RX-V483 - 1 vnt. namų kino resyveris stiprintuvas

Dynavoice Magic F-6 - 2 vnt. grindinės garso kolonėlės

Dynavoice Magic S4 - 2 vnt. efektinės kolonėlės

Dynavoice Magic C4 - 1 vnt. centrinė kolonėlė
5X160WDIN/Max;Wi-fi , HDCP 2.2 , Bluetooth® Extra Bass 4K Ultra HD ECO mode , 4K Ultra HD pass-through , DD, DD Plus, DDHD, Dts, DtsHD Master Audio, Dolby Pro Logic II; Internet Radio, Napster, Spotify, Network Audio/USB (mp-3, WAV, FLAC, WMA, AAC); DLNA 1.5; 3D DSP; YPAO - mikrofonas auto nustatymams su kambario akustikos įvertinimu, kompresuoto garso signalo atstatymo sistema; Virtual Presence Speaker; Burr-Brown 192 kHz/24-bit DAC visiems kanalams; valdymo pultelis - universalus programuojamas; meniu išvedimas į ekraną; USB In (iPod/iPhone, USB Memory, Portable Audio Player). 4K Ultra HD/3D Ready 1080p Repeater HDMI 5xin 1xout; HDMI Audio Return Channel, HDMI CEC; Deep Color; Dock Port; AirPlay; App Control; MHL Support.
Svoris 8,1kg.
Išraiškingas, detalus, galingas ir solidus garsas ir inovatyvus dizainas išreikštas balta ir juoda spalva, Dynavoice gamintojas stengiasi sukūrti kolonėlės visom prasmėmid prieinamas kiekvienam vartotojui, garso kokybe priblokštė ne vieną gero garso žinovą, puikus kainos ir kokybes santykis. Puikiai įvertintos specialistų ir pelniusios eilę apdovanojimų savo kainos grupėje.
2-juostų garsiakalbiai DYNAVOICE F-6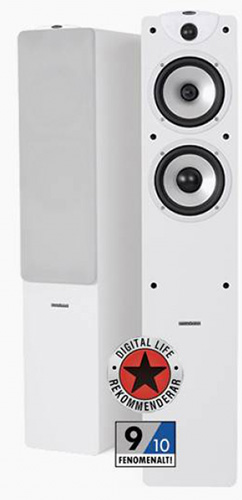 Konstrukcija :fazoinvertoriai gale
Paauksuotas dviejų laidų terminalas
Aukštų dažnių garsiakalbio :1-colių Super Audio
Žemų dažnių garsiakalbio: 2 x 6.5-colių kevlaras
Varža :4 omų
Dažnių diapazonas: nuo 28 iki 32.000 Hz (- 3 dB)
Filtro dažniai: 240/2500 Hz
Jautrumas: 92 dB
Maksimali galia: 125 W
R.m.s. Galia: 120 W
Matmenys (AxPxG): 981 x 199 x 291 mm
Pagamintos iš 18 mm medžio plokštės
kaina už 5 vnt.
Spalva: juoda, balta.
Yamaha RX-V485 stiprintuvas namų kino resyveris 5.1 5x160W WiFi Bluetooth® Airplay

®

Extra Bass 4K Ultra HD ECO mode
Patogiai klausykis muzikos kur ji bebūtų. WiFi, Bluetooth® suteikia galimybė pasiekti muziką Jūsų telefone, kompiuteryje, internete ar betkokiame muzikos servise. MusicCast palaikymas leidžiai patogiai nadotis bevieliu multiroom funkcionalumu.
Programėlė telefonui ar planšetei MusicCast
Access all of your music with a simple app and wirelessly stream it throughout your home using your existing Wi-Fi® network.
Stream it all. Listen to Pandora®, Spotify, thousands* of free internet radio stations and the music stored on your smart devices and computers. (Note: Deezer and TIDAL available by firmware update, May 2017).
Wireless connectivity. All MusicCast products are fully loaded with Wi-Fi, Bluetooth and AirPlay®.
Expand to a whole home audio experience. When you're ready, add MusicCast wireless speakers, sound bars or other devices in up to 9 other rooms and listen throughout your home.
No wires, easy installation. By using MusicCast, you don't need to fuss with placing wires through walls into other rooms.
*SiriusXM and Napster are not included on RX-V483 model
Bluetooth®
Play your favorite streaming service. This AV receiver is equipped with Bluetooth functionality to let you enjoy easy wireless music playback from smartphones and other devices. The Compressed Music Enhancer, a digital sound processing technology from Yamaha, is now optimized for Bluetooth audio transmissions to ensure that your music will have vivid, lively sound quality during wireless playback. You can stream music from the RX-V483 to Bluetooth headphones for private listening or to Bluetooth speakers.
Full 4K Ultra HD Support
This AV receiver completely supports with latest HDMI® standards. Thanks to transmission of 4K video at 60 frames per second pass-through, you can fully enjoy the high definition video quality of 4K without degradation. It also adheres to the HDCP 2.2 copyright protection standard for 4K video transmission. It also supports HDR (high dynamic range) Video including Dolby Vision™ and Hybrid Log-Gamma which provides incredible contrast, smooth tone and rich, bright colors. Furthermore it supports the wider color gamut of BT.2020 pass-through. This AV receiver is also compatible with 3D, Audio Return Channel and CEC for easy operation.

*Dolby Vision and Hybrid Log-Gamma will be available via future firmware update
Wi-Fi Compatible
Stream simply. Built-in Wi-Fi allows for a connection with your wireless router, greatly simplifying system connections for enjoying networked audio (PC/NAS) and music streaming services. If a Wi-Fi router is not available, the unique Wireless Direct feature not only allows you to stream music directly from your smartphone or tablet via the AV Controller App, AirPlay® etc., but also allows for control of the AV receiver as well.
Network Functions
Access more. This AV receiver provides a variety of network functions that enable you to access more sources and also enhance operation. You can connect the AV receiver to your home network or internet to enjoy Internet radio, Spotify, Pandora or music stored on a NAS and home PC. The AV Controller app (from iTunes® or Google Play) lets you control various functions from your iPod®, iPhone®, iPad® or Android™ phones/tablets.
AV Controller App
Easy and convenient operation. This AV receiver lets you use the Yamaha AV Controller app that is downloadable from iTunes, Google Play or the Amazon Appstore to control the power, volume, input selections, DSP modes and much, much more from an iPhone or Android device. Customize the interface by hiding unused icons and renaming functions. Includes 23 different languages. A tablet version is also available.
DSP Adjustment
Create sound fields at home. This AV receiver is equipped with a variety of sound programs that utilize original DSP technologies from Yamaha. These sound programs allow you to easily create sound fields like actual movie theaters or concert halls. It is now possible to use the AV Controller app to adjust the DSP parameters of your favorite movie or music.
AirPlay
iCompatible. This AV receiver supports AirPlay, which means it can accept wireless music streaming from iPod, iPhone, iPad, as well as from iTunes on a Mac® or PC. This makes it easy to enjoy music from your mobile device or computer through your home theater system. You can view metadata such as song title, artist name as well as album art inside the AV receiver's on-screen display.
Spotify Connect
Millions of songs. With the Spotify app on your smartphone, you have instant access to millions of songs. Now you can stream those songs to your networked Yamaha AV receiver by using Spotify Connect. Just hit play to start streaming music. When you listen to Spotify outside on your smartphone or tablet and come inside, the song immediately streams to your Yamaha AV receiver allowing no interruption to your music playback. You can also personalize playlists and receive phone calls while listening to music on Spotify.

The Spotify app and premium account are required. Visit www.spotify.com for more details.

Try Spotify Premium for free on your Yamaha home entertainment system for 30 days. Visit http://spotify.com/yamaha for more details.
Codec Support
Codec compatible. This AV receiver is compatible with many audio formats such as Dolby® True HD and DTS-HD Master Audio™. It is also compatible with high-resolution audio codecs such as DSD/AIFF/FLAC/WAV/Apple® Lossless. You will enjoy the excellent sound quality of these various high-resolution audio codecs from the USB input on the front panel or from network connected devices.
Gapless Playback
No interruptions. Many live and classical albums have no gaps in the music. Gapless playback ensures that there are no pauses between audio files. This provides playback with no interruptions, the way it was meant to be heard. Compatible with WAV, FLAC and ALAC file formats, and input from USB/PC/NAS.
Total Purity
Enjoy fine sound quality. The Total Purity Concept, which Yamaha has been cultivating for many years, encompasses high drive amp technology, high purity preamplification, anti-vibration technology and independent pure power supplies. All models have fully discrete power amplifiers that help minimize distortion. They also adopt pure independent power supplies, allowing dedicated power supplies for the analog and digital circuitry to prevent digital noise from affecting analog circuitry. The anti-vibration heat sinks are designed to suppress vibration from transistors and sound pressure. Independent power supplies for the DACs are designed to further eliminate noise on certain models. Down to every detail, these AV receivers are designed with full emphasis on the highest possible sound quality.
Discrete Amp Configuration
Enjoy quality sound. This AV receiver was designed with a strong focus on achieving exceptionally high sound clarity. It employs a discrete amp configuration and a low-jitter PLL circuit, which contribute to its excellent audio performance.
AV Setup Guide
Install with ease. The AV Set Up Guide makes it much easier to perform the set up process with the Yamaha AV receiver. This app assists you with cable connections between the AV receiver and source devices. Additionally, it guides you through various settings such as speaker connections, TV and source device connections and power amplifier assignments. System illustrations and actual AV receiver images help you understand how to make the connections between devices. It is available in multiple languages and is designed for iOS and Android tablets.
SCENE for One-Touch Start
One-touch start. Pressing a SCENE button powers on the AV receiver and selects the input source and DSP mode. You can re-set the buttons for different sources by selecting a source and DSP mode, then pressing a SCENE button for more than three seconds.
YPAO™ Sound Optimization
Every room is different. YPAO analyzes the room acoustics and adjusts various audio parameters for optimum sound in just a few minutes. It's like having a professional installer calibrate your system.
Virtual Presence Speaker
Wide, high and dense sound. CINEMA DSP 3D provides a wide, high and dense sound field. HD Audio format decoding lets you enjoy HD Audio sources. Virtual Presence Speaker delivers three-dimensional sound without the actual use of presence speakers.
Virtual CINEMA FRONT
Surround from the front. Even when it is impossible to install surround speakers behind the listening position, you will enjoy virtual 5-channel surround sound with all of the speakers placed in the front of the room. This is ideal for those who can't or prefer not to install speakers in the rear of the room.
Zone B
Sound in a second room. Zone B output capability allows the receiver to send 2-channel sound to a second zone, so the main zone now has 3-channel output. This means that users can enjoy stereo sound in a second room. The same source will play in both zones (cannot use two sources).
Extra Bass
Feel your lows. The exclusive Yamaha low-range enhancement technology delivers richer bass than you expect from the speaker size while maintaining good localization and sound balance even with compact front speakers. When a subwoofer is used, it improves the volume of the entire low range of the speaker system, not only the front speakers, but also enhancing the bass from the subwoofer. You'll enjoy video and music with sound that has exceptional power and presence.
Subwoofer Trim
Improved sound imaging. The Subwoofer Trim Control enhances the low frequencies by avoiding overlap with the front speaker output. This will result in a cleaner, more focused soundstage while providing a seamless frequency response. When subwoofer frequency overlap occurs in conventional systems, the overall sound is "pushed" toward the subwoofer. Subwoofer Trim Control takes care of this by separating the low subwoofer frequencies cleanly, thus stabilizing the front stage while providing a well-balanced enhanced bass sound.
ECO Mode
Go green. When ECO mode is turned on it can reduce power consumption by about 20%*. *Compared to power consumption when ECO mode is off (Yamaha measurement).
Selectable Auto Power Standby
Sleep mode. Auto Power Standby lets you save energy by selecting to turn off the power after 20 minutes, 2, 4, 8 or 12 hours.
Eco-Friendly Product