Produkto aprašymas
Nebegaminamas - Denon AVR-X1300W 7.2 HD namų kino stiprintuvas resyveris 7x175W 4K Ultra HD WiFi Bluetooth interneto radijas tinklo grotuvas Dolby Atmos, DTS:X Spotify Heos
naujas modelis https://www.audiovideo.lt/denon-avr-x1400h-namu-kino-stiprintuvas-resyveris
Apdovanojimai:
DENON AVR-X1300 - vidutinio lygio namų kino teatro stiprintuvas. DENON AVR X1300 keičia savo legendinį pirmtaką DENON X1200. Tai patobulintas ir vienas geriausių namų kino stiprintuvų savo kainų kategorijoje pradedamas gaminti 2016 metų gegužės mėnesį. DENON AVR X520 nors ir puikus pasirinkimas savo kainų lygyje, bet gana ženkliai nusileidžia mūsų pamėgtam favoritui atkuriamo garso kokybe, bei kitomis savo savybėmis.
DENON AVR X1300 - atnaujintas modelis turi visiškai naują patogiau valdomą aplikaciją kuri taip pat dirba stabiliau ir yra naujo dizaino. Aplikaciją galite įsidiegti į iOS, android, amazon kindle įrenginius.
Ankstesniojo modelio privalumais pasižymintis naujasis AVR-X1300W turi 175 W MAX kiekvienam kanalui stiprintuvą, leidžiantį pagerinti atkuriamo garso kokybę. 5 HDMI įvestys ir 2 HDMI išvestys leidžia AV imtuvui veikti kartu su bet kuriuo Jūsų įsigytu HDMI imtuvu.
Aukštos kokybės 7 kanalų diskretiškosios konstrukcijos AV imtuvas namų kino sistemai, turintis 150 W kiekvienam kanalui ir leidžiantis išgauti aiškų ir stiprų garsą
Išskirtinės garso įrangos dalys, leidžiančios pasiekti geriausią kokybę
įdiegta "Dolby Atmos" technologija; DTS:X (atnaujinus programinę įrangą, atnaujinimas parengtas 2015 m. antrojoje pusėje)
Spartus 32 bitų keturių branduolių DSP procesorius
Naujausias HDMI standartas, remiantis 4K/60 Hz visoms įvestims, 4: 4: 4 skiriamoji geba, HDR, BT2020
6 HDMI įvestys (1 iš jų priekyje), 2 HDMI išvestys, pilnai palaikančios HDCP 2.2
įmontuota "Bluetooth" sąsaja ir "Wi-Fi" imtuvas su dviguba antena
USB prievadas priekyje
Patobulintas "Denon Sound" modelis
Daug palaikomų formatų, įskaitant aukštos raiškos formatus: DSD, FLAC, AIFF
Srautinė muzikos transliacija per "AirPlay", interneto radijas
Pažangus ECO režimas su ON/OFF/AUTO nustatymais
"Audyssey MultEQ XT", "Audyssey Dynamic Volume" ir dinaminis EQ
Daugiakambarinės sistemos (Multiroom / Multisource) funkcija atskirai arba prijungtai per "pre-out" jungtį garsiakalbių sistemai
Nauja 2016/2017m. "Denon AVR Remote App" programa (skirta "Android" ir "iOS")
Ergonomiškas nuotolinio valdymo pultelis patogiam valdymui
Konfigūracijos asistentas (9 kalbomis)
Garso jungtys pažymėtos spalvomis
Nesunkus prijungimas, intuityvus valdymas
HEOS palaikymas
Juodas arba sidarbrinis

svoris neto: 8.50 kg
produkto matmenys: 434 x 151 x 339 mm
vienetų pakuotėje: 1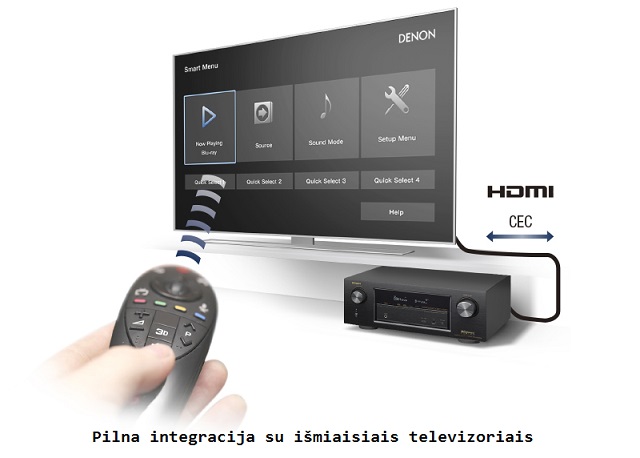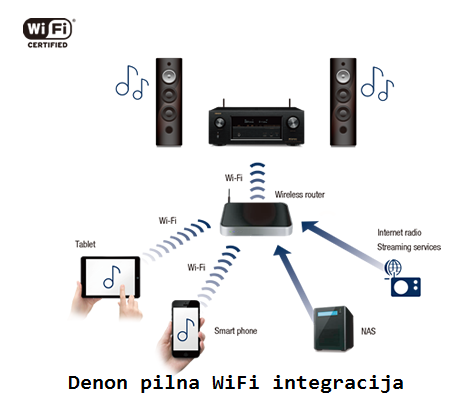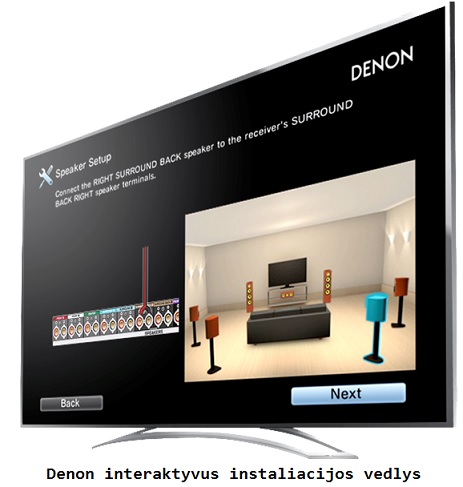 Denon 2016 AVR Remote - programa telofonams ir planšetėms
7.2 Channel Full 4K Ultra HD Network AV Receiver with Wi-Fi and Bluetooth
Overview
Experience state-of-the-art surround sound with the AVR-X1300W 7.2 channel Dolby Atmos AV receiver, which delivers breathtaking immersive surround sound with today's advanced movie soundtracks. Bring home the same revolutionary 3D surround sound used in premium movie theaters, with the ability to create an overhead soundfield to deliver a dramatically expanded sonic space. What's more, a future firmware update will enable the AVR-X1300W to decode DTS:X soundtracks, for full compatibility with all current 3D sound formats.
The AVR-X1300W is futureproof, too, thanks to an advanced video section fully compatible with the latest HDMI 2.0a and HDCP 2.2 specifications on all six of its HDMI inputs. With 4K Ultra HD 60Hz video, 4:4:4 Pure Color sub-sampling, High Dynamic Range (HDR) and 21:9 video, 3D, and BT.2020 pass-through support on every input, the AVR-X1300W is ready for the next generation of Blu-ray disc players, set-top boxes and other 4K Ultra HD sources.
And it has the sonic firepower to deliver cinema-sized thrills: the powerful amplifier section features discrete high current output devices on all seven channels, each of which is configured identically and rated at 80 watts per channel (8 ohms, 0.08%THD, 20Hz~20kHz). That generous current also means the AVR-X1300W has the ability to drive even lower impedance 4ohm speakers on all channels.
Meanwhile the AVR-X1300W's built-in multiroom capability you can enjoy two different sources in different rooms at the same time, so you could watch a movie in superb surround sound in one room while another member of the family enjoys great-sounding music in another part of the house.
Full wireless connectivity is provided by both Wi-Fi and Bluetooth, with dual antennas to ensure robust signal transmission and reception, and you can stream your favorite music through AirPlay, or from Spotify Connect or local network storage drives. High-resolution audio playback, all the way up to 192kHz/24bit and DSD5.6, delivers incredible fidelity.
Using the AVR-X1300W is simple, too: the brand-new "Denon 2016 AVR Remote" app is available from the Apple app store, Google Play, and the Amazon app store, allowing you to control the receiver from your smartphone or tablet.
Dolby Atmos
Dolby's revolutionary Dolby Atmos technology dispenses with the channel-based surround sound coding used for decades, in favor of advanced object-based coding, giving the sound designer the ability to place sounds precisely anywhere in the three-dimensional soundspace. Now you can enjoy this award-winning technology at home with the AVR-X1300W, which features the ability to connect a 5.1 surround sound speaker system and 2 additional overhead speakers or 2 additional Dolby Atmos elevation speakers for the ultimate home theater experience.
DTS:X
The latest immersive surround sound system, DTS:X features similar object-based audio coding, and provides for overhead speakers to deliver a stunning surround sound experience. (DTS:X will be enabled via future firmware update: for more info, please visit www.denon.com/dtsx.)

The AVR-X1300W also features Dolby TrueHD and DTS-HD Master Audio decoding and other Dolby Digital and DTS audio decoding and processing. This includes both Dolby Surround and Neural:X up-mixing: users with a '3D' sound speaker set-up are able to get an enhanced surround experience from conventional Dolby or DTS–encoded content, or even music in stereo, using the full set of speakers installed in the listening room.
High Resolution Audio
Discover the incredible fidelity of high resolution audio tracks with the AVR-X1300W's ability to decode up to 24-bit/192-kHz lossless files (AIFF, FLAC and WAV; ALAC/Apple Lossless to 24-bit/96kHz), as well as DSD 2.8MHz (the audiophile format of SACD) and now 5.6MHz track. Play them from memory devices via the front panel USB, or from network sources – the AVR-X1300W will also play lossy file types such as MP3.
Latest HDMI 2.0a Connectivity; HDCP 2.2 Compatible
The AVR-X1300W's six HDMI inputs, including one conveniently located on the front panel, all confiorm to the latest HDMI specifications, including 4K Ultra HD 60Hz video, 4:4:4 Pure Color sub-sampling, High Dynamic Range (HDR) and 21:9 video, 3D, and BT.2020 pass-through support. The advanced video section also features HDCP 2.2 compatibility, a requirement for 4K Ultra HD copy-protected content, ensuring the AVR-X1300W is ready for the next generation of Blu-ray disc players, set-top boxes and other 4K Ultra HD sources.
Built-in Bluetooth & Wi-Fi
Featuring Bluetooth & Wi-Fi wireless streaming connectivity, the AVR-X1300W is equipped with an advanced dual antenna system for robust and error-free streaming even in congested urban environments. Connected to the Internet through your home Wi-Fi network (or with a hard-wired connection via the RJ-45 Ethernet LAN port), it allows you to enjoy your favorite tracks from streaming music services such as Pandora, Spotify Connect and Sirius XM (depending on local availability). You can also choose from thousands of Internet radio stations from around the world, and enjoy music and speech entertainment of virtually every genre.
AirPlay lets you play your favorite tracks wirelessly from your iPod touch, iPhone or iPad, and via network streaming you can listen to music files stored on your home PC or Mac, or NAS devices.
The all-new Denon 2016 AVR Remote App lets you control the AVR-X1300W with your smartphone or tablet: it's available for both Apple iOS and Android devices.
Denon 2016 AVR Remote
With the free "Denon 2016 AVR Remote" for iOS and Android, available from the Apple app store, Google Play or the Amazon appstore, you can control the receiver's operation, as well as accessing its set-up menu, from a smartphone or tablet. The app also gives you quick access to the receiver's status display, option menus, Denon Blu-ray player control, and an online owner's manual for your convenience, while the new queue management feature means you can browse and add new tracks to the playlist on the fly.


Powerful 7 Channel Discrete Amplifier with Eco Mode
Featuring high current discrete power output devices on all seven channels, the AVR-X1300W is rated at 80 watts per channel (8 ohms, 20 Hz~20 kHz, 0.08% THD). It's also equipped with high-current low impedance drive capability, for compatibility with the widest range of loudspeaker models (down to 4 ohms).


The Eco mode adjusts the power amplifier's output according to the volume level to reduce power consumption, with an on-screen Eco meter providing real-time monitoring of the power-saving.
Dual Subwoofer Outputs
A single subwoofer can give an uneven bass response at the main listening position, with audible peaks and dips. The AVR-X1300W provides for two subwoofers: positioned in different locations, they will even out the low frequencies, for more accurate bass anywhere in the listening area.
Smart TV Connectivity
Using the HDMI CEC (consumer electronics control) functionality provided on some Smart TVs, it's possible to control Denon receivers with the TV's remote handset. Set the receiver's "HDMI control" to ON, choose the "Smart Menu" receiver control functions on the TV, and the Smart Menu home screen allows direct access to a range of receiver functions including source and surround mode, the main setup menu, and the Quick Select 'one-touch' presets.
Audyssey Silver
As the first AV receiver manufacturer to embrace Audyssey's advanced DSP audio algorithms, Denon brings to the AVR-X1300W the Audyssey Silver suite of DSP functions, which includes MultEQ XT, Dynamic EQ and Dynamic Volume.

Audyssey MultEQ XT automatic room acoustic measurement and correction system uses athe supplied microphone and a test-tone sequence to match your speakers to your room's acoustics, giving the smoothest, most natural tonal balance. The MultEQ XT system here provides greater filter precision for the main and satellite speakers, with eight times the resolution of the base MultEQ system, at for up to 8 measurement locations to ensure the best sound for the whole family, not just one ideal 'sweet spot'.

Audyssey Dynamic EQ uses advanced psychoacoustic algorithms to continually adjust tonal balance to deliver full range sound, even at lower volume levels; Audyssey Dynamic Volume smooths out those annoying volume jumps – especially from loud commercials – for an easier viewing experience.
Multi-Source/Multi-room
With the AVR-X1300W it's possible to enjoy 5.1-channel surround in one room, while another 'zone' plays another source–such as CD or streaming audio. You can simply connect a pair of stereo speakers to the multi-room amplified outputs. Or, connect a separate stereo amp and speakers to the Zone 2 pre-outs, allowing full 7 channel surround sound in the main room with stereo in the second.
Convenient USB Port
The convenient front panel USB port provides a digital connection from music from your iPod touch, iPhone and iPad, while also charging the device. You can also connect a USB drive and listen to files from MP3 all the way up to high resolution DSD (2.8/5.6 MHz), and lossless FLAC lossless (up to 24-bit/192-kHz).
Color Coded 4-Way Speaker Terminals
The high quality multiway speaker terminals handle a number of cable terminations including banana plugs, and are also color-coded for correct first-time hook-up; color-coded speaker cable labels are provided.
Audyssey MultEQ Editor App
The latest Denon audio video products use Audyssey MultEQ for simple, accurate set-up and calibration of your system to the room in which it's used. But now you can go further with the Audyssey MultEQ Editor app, going "under the hood" to view and adjust settings for detailed tuning – allowing you to customize the sound more precisely to the specific problems in your room, and tailor the sound to your personal preferences. With this comprehensive app, you can harness the power of Audyssey MultEQ to take total control of the way your home cinema sounds.
This app will allow you to:
View the speaker detection results, to check correct installation.
View before and after results of the Audyssey calibration, making it easy to identify room problems.
Edit the Audyssey target curve for each channel pair to suit your tastes.
Adjust the EQ frequency adjustment range for each channel pair.
Switch between 2 high frequency rolloff target curves.
Enable/Disable midrange compensation to make the vocal region brighter or smoother.
Save and load calibration results.
Klientų apžvalgos (2)
denon

Autorius Ričardas

Praeita savaite kainavo 399e be jokios akcijos(turiu screenshotus). O dabar su akcija -449e. (Įrašyta 2017-08-10)

AVR-X1300W

Autorius denon

geras kainos kokybes santykis (Įrašyta 2016-06-10)
Parašyti savo apžvalgą