Produkto aprašymas
DALI FAZON MIKRO 5.1 Kolonėlių sistema
KOMPONENTAI
4 x FAZON MIKRO
Mikro speaker
[ HOME AUDIO / DALI / FAZON ]
1 x FAZON MIKRO VOKAL
Mikro center speaker
[ HOME AUDIO / DALI / FAZON ]
1 x FAZON SUB1
Active subwoofer system
[ HOME AUDIO / DALI / FAZON ]
DALI FAZON series
The DALI FAZON reaps the full benefits of creative Scandinavian design talent, as well as decades of experience at the cutting edge of technological innovation. DALI FAZON combines advanced driver and material technologies developed for the acclaimed DALI IKON and MENTOR series.

The FAZON series is proof positive that, when done right, form and function can be allies. The fluid, organic lines of the die-cast aluminium enclosures are a perfect example. The distinctive styling and curved forms are much more than artistic whims. They also provide enhanced structural integrity, reduced vibration and no parallel surfaces - all key elements in the pure, musical tone of these masterful loudspeakers.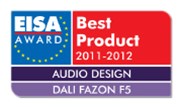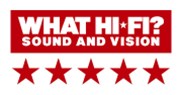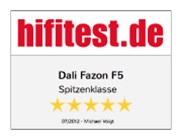 Techniniai duomenys
FAZON MIKRO
Connections
Connection Features
Bi-wireable
Are they bi-wirable? Separate earthing for bass and treble - when used with bi-wirable cable gives a more precise sound
General
General Features
Magnetically Shielded
Are they magnetically shielded? Allows speaker to be placed near a CRT TV/Monitor or sensitive magnetically stored data without the risk of damage.
Sensitivity (dB)
The higher the figure the easier it is to drive - meaning that a less powerful amp may be used
84
Impedance (ohms)
Resistance. A standard figure is 8 ohm. Figure halves when doubling the number of speakers
6
Power Rating (Watts)
Maximum power output long term/short term (RMS)
120
Dimensions
Size of speaker cabinet excluding any feet or binding posts (H x W x D) mm.
196 x 113 x 96
Weight
Weight of each speaker in KG.
1.5
Black
Does this speaker come in a black finish?
Wood
Does this speaker come in a wood or wood style finish?
Other Colours
Does the speaker have another coloured finish?
Freq Response (Hz)
The lower the first figure the deeper the bass should be
95 - 25,000
Speaker Enclosure Type
Type of speaker enclosure. Infinite baffle cabinets are sealed and so are often less fussy about placement. Usually they do require a little more power to drive, though. Bass reflex speakers are usually more efficient than infinite baffle designs but may require more care in terms of placement. Rear port designs, in particular, usually need at least 15-30cm (6 - 12 inches) between them and the wall behind, for a balanced bass response.
FAZON MIKRO VOKAL
Product Series
FAZON
Speaker Type
Center
Frequency Range (+/-3 dB) [Hz]
95 - 25,000
Sensitivity (2,83 V/1 m) [dB]
84.0
Nominal Impedance [Ω]
6
Maximum SPL [dB]
101
Recommended Amplifier Power [W]
30 - 120
Crossover Frequency [Hz]
2,560 Hz
High Frequency Driver
1 x 20 mm Soft Textile Dome
Low Frequency Driver
1 x 4" Wood Fibre Cone
Enclosure Type
Closed Box
Connection input(s)
Single Wire
Magnetic Shielding
No
Recommended Placement
Below TV Screen
On-Wall
Shelf
Stand
Recommended Distance From Wall [cm]
0 - 50
Dimensions With Base (HxWxD) [mm]
113 x 196 x 96
Weight [kg]
1.5
Accessories Included
Manual
Rubber Pads
Wall Bracket
Wall Bracket Bumper
Optional Accessories
Black Grille
Floor Stand
White Grille
Finish
Black Lacquer
White Lacquer
---
Aprašymas
Kompaktiška bei itin kokybiška galia leis Jums dar maloniau mėgautis Jūsų medija.
Dažnių juosta:37-200Hz
Galia:150w Max
---
The DALI FAZON SUB 1 is a very compact subwoofer with a very elegant finish and a great sound performance, which would make this sub the icing on the cake in a compact stereo- or surround setup. Although small in size the FAZON SUB 1 is among the highest performing ultra compact subwoofers in the market.
---
Techniniai duomenys
Frequency Range (+/-3 dB) [Hz]
37 - 200
Maximum SPL [dB]
103
Crossover Frequency [Hz]
50 - 150
Low frequency driver, Quantity
1 x 6½"
Low frequency driver, Diaphragm type
Paper Fibre Cone
Enclosure type
Closed Box
Max. Amplifier Power Output [RMS watt]
150
Continous IEC Power Output [RMS watt]
90
Input Impedance [ohms]
22k
Connection Input
RCA
Stereo Line Level (low pass filtered)
Magnetic Shielding
No
Recommended Placement
Floor
Recommended Distance From Wall [cm]
5 - 15
Functions
Crossover Frequency
LFE/LP Filter Switch
Phase Switch
Standby (Auto Power) On/Off Switch
Volume (Gain)
Max. Power Consumption [W]
195
Dimensions With Base (HxWxD) [mm]
255 x 230 x 255
Weight [kg]
7.5
Accessories Included
Manual
Power Cord
Amplifier power (watts) 90 continuous/ 150 max Auto mute/power Auto power off after 5 minutes inactivity Connections Line In/LFE (2 x RCA Phono, LFE input is to the right RCA/phono) Controls Crossover control (between 50 and 150Hz), phase control switch (0 or 180 degrees), volume control, mode selector (line input or LFE) Drivers 165mm (6.5 inch) mica cone Finish Gloss black or gloss white. Frequency response (Hz) 37 – 200 W x H x D (mm) 230 x 255 x 255 Weight (kg) 7.5 - See more at: http://www.superfi.co.uk/p-9448-dali-fazon-sub1-subwoofer.aspx#sthash.obZVYcqn.dpuf
Amplifier power (watts) 90 continuous/ 150 max Auto mute/power Auto power off after 5 minutes inactivity Connections Line In/LFE (2 x RCA Phono, LFE input is to the right RCA/phono) Controls Crossover control (between 50 and 150Hz), phase control switch (0 or 180 degrees), volume control, mode selector (line input or LFE) Drivers 165mm (6.5 inch) mica cone Finish Gloss black or gloss white. Frequency response (Hz) 37 – 200 W x H x D (mm) 230 x 255 x 255 Weight (kg) 7.5 - See more at: http://www.superfi.co.uk/p-9448-dali-fazon-sub1-subwoofer.aspx#sthash.obZVYcqn.dpuf
Amplifier power (watts) 90 continuous/ 150 max Auto mute/power Auto power off after 5 minutes inactivity Connections Line In/LFE (2 x RCA Phono, LFE input is to the right RCA/phono) Controls Crossover control (between 50 and 150Hz), phase control switch (0 or 180 degrees), volume control, mode selector (line input or LFE) Drivers 165mm (6.5 inch) mica cone Finish Gloss black or gloss white. Frequency response (Hz) 37 – 200 W x H x D (mm) 230 x 255 x 255 Weight (kg) 7.5 - See more at: http://www.superfi.co.uk/p-9448-dali-fazon-sub1-subwoofer.aspx#sthash.obZVYcqn.dpuf
Amplifier power (watts) 90 continuous/ 150 max Auto mute/power Auto power off after 5 minutes inactivity Connections Line In/LFE (2 x RCA Phono, LFE input is to the right RCA/phono) Controls Crossover control (between 50 and 150Hz), phase control switch (0 or 180 degrees), volume control, mode selector (line input or LFE) Drivers 165mm (6.5 inch) mica cone Finish Gloss black or gloss white. Frequency response (Hz) 37 – 200 W x H x D (mm) 230 x 255 x 255 Weight (kg) 7.5 - See more at: http://www.superfi.co.uk/p-9448-dali-fazon-sub1-subwoofer.aspx#sthash.obZVYcqn.dpuf